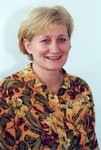 Zsuzsa Majer
Ph.D., asscociate professor
Mail address:
Email:
Tel:
Fax:

H-1518 Budapest 112, P.O. Box 32, Hungary
majer@elte.hu
+36-1-372-2500 /1413, 1437,1438
+36-1-372-2620

Short CV:

Born:

Education:

1975 M.Sc. in Chemistry Eötvös Loránd University (ELTE)
1997 Ph.D. in Chemistry Eötvös Loránd University (ELTE)
Employment:
Teaching experience:

Graduate course:

1985-87 Basic Organic Chemistry for Chemistry teacher trainees
2004-2007 Basic Organic Chemistry for Biology teacher trainees

Practical courses:

Laboratory course in Organic Chemistry for Chemistry teacher trainees (1975-2007); Chemistry BSc students (2007-)
Special preparative laboratory course in Peptide and Sugar Chemistry for Chemistry MSc students (2012-)
Special laboratory courses on chiroptical spectroscopy (ECD) in Organic Chemistry for ungraduated and graduated students - optional course (1993- 2010); Chemistry MSc students (2011-)
Supervision of graduate and postgraduate students (1994- ) Summer schools (TEMPUS, Eötvös graduate school)

Textbook:

Experimental Organic Chemistry - Laboratory Guide (1998, 2012 co-author)
Basic stereochemistry and chiroptical spectroscopy (2004, co-author)
Research interests:
Peptide chemistry, spectroscopy, bioorganic chemistry
Applied chiroptical spectroscopy (conformation, absolute configuration)
Peptide synthesis (solid- and solution phase) and conformational studies of biologically active peptide fragments. Study of structure-activity relationship. Synthesis and chiroptical spectroscopic studies of model compounds (cyclic peptides and peptido-mimetics).
Spectroscopic studies (ECD, FTIR) on cation-peptide, cation-protein and peptide-macromolecule interactions.
Metal complexes: transitonal metal-ion with chiral ligands: synthesis, separation and structure elucidation
Photolysis of disulfid bridges in peptides, proteins; the role of aromatic side chaines and cation-pi effect in the photolysis; deduce of the photolysis with fluorescence spectroscopy and HPLC
Fellowhips, study-trips (selected):
1983-84 Ruhr Universität, Bochum (Germany) in the Laboratory of Prof. Günther Snatzke (H. Hertz Stiftung), Research Associate, 15 months
1984-2002 Study trips : University of Barcelona, Barcelona (Spain), University of Nottingham, Nottingham (UK), University of Leipzig, Leipzig (Germany), University Kyushu, Japan (Japan-Hungarian Governmental program)
2001 University of Bielefeld, Bielefeld (Germany) Prof. N. Sewald, DFG-fellowship, visiting professorship, (3 months)
Projects, Cooperation:
1982-2014 Hungarian research projects (OM, FKFP, OMFB, OTKA) as participant, and principal investigator
1995-2001 Bilaterial projects of Universities as participant, and principal investigator: Univ. of Zagreb – ELTE; 1995-2000; Univ. Padova-ELTE 2001
1997-2000 Participant of "Balaton" program (Lyon Claude Bernard University - ELTE 1997-1999); Japan-Hungarian Bilaterial Govermental Research Program (TéT) (1998-2000)
1998- Participant and principal investigator of Research Cooperation Program (DAAD-MÖB) with Norbert Sewald professor, Universität Bielefeld, Germany [Home Page]
2002- Participant and principal investigator of nonstop research cooperation with Jadwiga Frelek professzor's team, Polish Academy of Science, Institute of Organic chemistry, Warsaw, Poland [Home Page]
2001-2007 Bilaterial Govermental Research Program (Flamand-Hungarian TéT program) with Ignace Hanssens and Hans Deckmyn professors (Protein Biophysics – IRC KULAK and Laboratory for Thrombosis Research of KULAK) Catholic University of Leuven Campus Kortrijk, Belgium [Home Page]
Awards:
1997-1998 elismerő oklevél (3) tudományos diákköri témavezetésért (2 OTDK, 1 TDK)
2000 Kisfaludy Lajos award (Kisfaludy Lajos Foundation)
2001-3 Széchenyi Professorship (Ministry of Culture)
2008 Pro Universitate award silver medal (ELTE)
Activities:
Conferences: 25th European Peptide Symposium (1998, Budapest), Symposium on Biochirality (2000, Szeged), 9th International Conference on Circular Dichroism (2003, Budapest)
Public Relations: Principal investigator of PR Association (ELTE, Institute of Chemistry; 2006-2011)
Memberships:
1985- Hungarian Chemical Society
1990- European Peptide Society
Publications:
110 papers in English in international journals, 2 book chapters in Hungarian
Lectures/posters: ~80.
Selected publications: